How to treat a sprained ankle? Use Traumeel
The Traumeel® in Acute Ankle Sprain Study (TAASS) study
Research presented in June 2012 at the European League Against Rheumatism (EULAR) now declares : There is a natural alternative to NSAIDs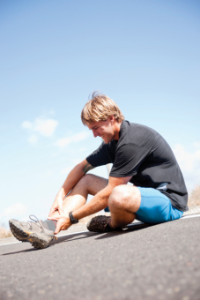 The TAASS study  involved 449 males and females with mild to moderate ankle sprain.
"TAASS is the largest randomised controlled study of its kind comparing the natural medication, Traumeel, with a conventional NSAID, diclofenac.  This study confirms that Traumeel (ointment and gel) is as effective as diclofenac gel and as such is an effective alternative treatment option for patients."
Professor Carlos Gonzalez de Vega, Medical School of the Autonomous University of Maadrid, and Medical Director and Chief Exectutive Officer of the MEDYR Clinic for Sports Medicine and Rehabilitation, Madrid Spain. (1).
"Ankle sprain is a common injury and without adequate care can result in chronic pain and instability. There are numerous studies to show that early assessment and intervention lead to optimal outcomes. Effective pain management is key to early mobilization and progressive rehabilitation of uncomplicated sprains. The TAASS study provides evidence for benefit of a natural safe product, Traumeel, in acute injury."
Professor Cathy Speed, Consultant in Rheumatology, Sport & Exercise Medicine, Cambridge Centre for Health and Performance, Cambridge, UK.
Traumeel is for sale in our clinic on-line shop
Reference
1 De Vega CG, et al. A randomized, controlled, multicentre study on the effectiveness of Traumeel (ointment and gel) in terms of pain reduction and functional improvement compared with diclofenac gel in acute ankle sprain. Abstract EULAR12-4940 presented at the European League Against Rheumatism (EULAR) Congress, Berlin, Germany, June 6-9, 2012.