OK, so glue ear isn't exactly the new black when it comes to sexy diseases. We have homeopathic heroes all around the world making huge waves doing things that are much more exciting, such as homeopath extraordinaire Jeremy Sherr traipsing the backwaters of Africa treating people with Malaria and AIDS. I recently attended a very inspiring conference where Jeremy told his amazing story. Then there's homeopath Rajan Sankaran in India, who has devised a very fascinating and innovative method to treat people with all manner of fascinating emotional and spiritual issues. While we're in India, I'd just like to mention that a new minister has recently been appointed to represent natural therapies (including homeopathy) and yoga. Homeopathy's use in India has seen it become one of the most widely used complementary therapies in the world.
There are many more homeopathic heroes making huge sacrifices to treat the suffering in many other parts of the world. One of the less dazzling but most compassionate and altruistic homeopathic heroes I've come across is Jennifer Jacobs, who has made it her life's work to treat impoverished children for diarrhoea, a leading cause of death in third world countries. I would have to say that the subject of diarrhoea is even less sexy than glue ear, but she has my vote for taking on such an enormous and devastating issue.
Travelling around the globe a little we come to Europe which saw the birth of homeopathy more than 200 years ago and it is still used very widely there today. In the UK, homeopathy is used very enthusiastically by the royal family for their noble ailments. On saying that, I've never heard of someone as eminent as the queen suffering from a bout of glue ear……. Even so, it is one of my great aims in life to raise awareness of glue ear and if making it sexy helps, then I will go all out to do just that.
Some provocative facts about glue ear and homeopathy
One way to make a gluggy subject more appealing is to throw in a little data. Did you know that ear infections have become the most common reason in childhood for a visit to a doctor?  I see it a fair bit in adults as well, and it makes them complain a lot. Imagine what it's like for the kids!
Did you also know that conventional medicine is quite limited in what it can do in the face of glue ear, and especially acute ear infections? I thought this bit was so important I've put it under its own heading further down so read on!
Another interesting tidbit of information you may not have known is that treating an acute ear infection with antibiotics is not doing the middle ear or the immune system any favours. The eustacean tube does not receive enough blood supply to actually allow a good enough dose of the antibiotics to penetrate into the area where they are needed. Also, once the ear infection has finished, a mucousy soup is likely to be left behind in the eustacean tubes. If this gloopy slime is seeded with even a couple of left over bacteria (which are likely to be the strongest ones that survived the antibiotics), this is a perfect opportunity for that bacteria to happily multiply in an even more virulent way once the antibiotics have finished and the immune system is left compromised. This is a sure-fire recipe for glue ear, which is the more chronic condition associated with recurrent ear infections.
This is where it gets super saucy, since mucous is really one of the most common, therefore popular and therefore trendy; and therefore sexy subjects in the life of a parent with small children. Glue ear, or otitis media with effusion (OME), can often go undiscovered in many children. It can slowly creep up on your unsuspecting child, causing them to gradually lose their hearing and struggle with speech, learning and even behaviour if the sensation of the blockage causes enough discomfort. Just ask any adult who has blocked ears and they'll tell you all about it.
Some salacious stats on standard treatments of glue ear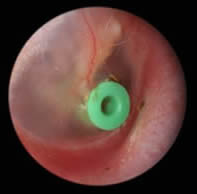 Conventional medicine usually offers grommets, which involve surgery. So let's take a look at grommets, and I don't mean the kids who like surfing. Grommets, or to be more technical, tympanostomy tubes, are very popular with kids as it seems like almost every second child has them. They come in very pretty colours too. In theory they sound great. If there's a build-up of mucous in the ear canal, it makes sense to stick a small tube through the ear drum to help equalise pressure and drain it all out. The only thing is, once your child (or you as an adult) has grommets, it doesn't necessarily mean that your child will stop getting ear infections! If everything goes exactly according to plan, all they will do is help to drain the mucous, but there can be complications.
Also, grommets require very high maintenance when it comes to getting wet. You must not allow the grommet-adorned eardrum anywhere near water or allow your child to dive. Can you imagine how difficult that would be in the middle of an Australian summer? Compromising the integrity of the eardrum causes many risks to the middle and inner ear, which are meant to be hermetically sealed off from the world for a very good reason. I have seen children who have experienced many more infections after having grommets inserted. I have also seen permanent scarring in eardrums where grommets were used and the round hole hasn't been able to properly heal. As you can imagine, if a small tear in a membrane such as an eardrum were to occur as a result of a mild, spontaneous rupture, it's more likely to heal than a perfectly rounded hole.
Another issue with grommets is that they require a general anaesthetic in order to be inserted. While this usually means around fifteen minutes' duration of being under, they don't pay anaesthetists bucket loads of money for nothing. It's actually a very risky business and must be carried out with exquisite care. A recent Scientific American article reported on the phenomena of post anaesthetic delirium, where hallucinations and terrifying visions are sometimes experienced after coming out of the surgery.  The article goes on to report that general anaesthetics have also been associated with longer term irregularities in brain function, especially if a child or adult experiences post-surgical terrors.[i] This is just one of the possible risks of undergoing a general anaesthetic, and children are more susceptible than adults. I don't know about you, but I'd much prefer to minimise, or even better, avoid risky procedures for my kids if at all possible, especially once I've taken the actual effectiveness of that procedure into account.
Let's take a look at the effectiveness of grommets then, shall we? In the studies I've seen so far, there seems to be anywhere between around a thirty to fifty percent success rate. I don't know, but to put myself or a child through a somewhat risky procedure for a mere thirty to fifty percent success rate seems a little long odds. I'd like to suggest that homeopathy can do a little better; in fact a whole lot better. Actually, let's just go out on a limb here and say that homeopathy offers pretty fabulous odds for not only resolving glue ear and its complications, but while it's doing that, the treatment will also be working on any behavioural, dietary, digestive, respiratory, skin or even sleep issues that may have come along with those ear problems. I may even go so far as to say that homeopathy offers one of the only effective treatments for those typical middle-of-the-night-screaming-earaches which I reckon most parents would heartily love to avoid ever experiencing again. Now we're getting into controversial territory, which I reckon is always a little sexy, don't you think?
Heavenly homeopathy has HUGE potential for glue ear
Recent research carried out through the Aurum project on past clients of the Harbord Homeopathic Clinic found that homeopathic treatment was very effective in 75% of kids, many of whom experienced significant resolution of their chronic issues within three weeks. A further 20% experienced either moderate improvements in their ear issues or improvements in other areas such as sleep, behaviour and appetite. Many of these children were still eating dairy. Putting both of those numbers together, it amounts to a stunning 95% improvement rate! We at the Aurum Project were so impressed by these figures we are now planning a pilot study to further explore the effect of homeopathy on glue ear and I think that's mighty sexy indeed; especially since the most recent study has been published in ATMS Journal and you can find the link to the article here on page 188.
So what's so amazing (and of course sexy) about homeopathy, I hear you ask? Well, probably the single most important thing about homeopathy is that it treats every child as an individual. Yes there are certain secret weapons we will nearly always use with certain conditions such as glue ear (more on that later), but for the most part no two kids suffering from the same ailment will get exactly the same treatment. That's because no two children will express exactly the same symptoms even if they both appear to have the same illness. That is, of course, because no two children are exactly alike. Full stop! Even identical twins may not need exactly the same treatment protocol!
If you put two children with glue ear side by side (notice I didn't say two glue ear cases but two CHILDREN with glue ear), one may be clingy as a limpet while the other may hate to be touched. One may be mild and sweet while the other may need to be prevented from smashing toys apart in a violent rage. One may sleep soundly throughout the night and the other may be like a jumping bean when it comes to bed time. One may be obsessed with chocolate ice cream, the other hot chips. While it can sometimes prove quite a challenge for the homeopath not to have a one-size-fits-all approach to treating kids/adults/anyone for their problems, it is for this exact reason that homeopathy can be so successful because it treats the person as an individual rather than as a walking glue ear.
Other possible causes that may need to be addressed could be enlarged adenoids which are common in mouth breathers. Another thrilling phenomenon I've been seeing a little of lately is pyrrole, which may account for why some of the children in the Aurum Project study didn't respond as  well as they could have to the homeopathics alone. In my practice I have recently seen exciting results in very stubborn mucous by treating some children for pyrrole (when they test positive for it) alongside the homeopathy and it gives me goosebumps to think that a whole lot more gluey kids may be able to be helped in this way.
Tissue salts save us from the sludge
On saying that, we do keep a few secret weapons up our sleeve that seem to work very well on the vast majority of people. One of those is a humble yet powerful little duo of tissue salts called ear mix. For those who are not yet familiar with the wonders of tissue salts, they offer a very gentle and natural way to rebalance many issues that may stem from a whole plethora of causes. There are twelve basic tissue salts and ear mix contains two of them: Ferrum phos 3x, which helps to address inflammation and pain; and Kali mur 3x which assists in the drainage of thick, tenacious mucous. Taken three times a day alongside individualised treatment, it helps to very effectively fast track resolution of glue ear.
Perception gives you potency, power and poise
Ok so maybe that last heading is a little over the top, but knowledge really does give you power. In this age of over-information it can be very confusing when faced with too many options, especially when one of the main messages coming from a health professional is one of fear. When a well- meaning practitioner tells you that your child's hearing/speech/learning/etc may be permanently affected by their glue ear and suggests immediate treatment, as a loving parent you will bend over backwards to get the best care possible for your child. Sometimes that means paying a fortune for a therapy that's known to be the best, but there is absolutely no guarantee that the most outrageously expensive intervention will be the best option out there. In this case, the most costly choice may not necessarily have the most beneficial and long lasting outcome
It's no wonder then that those parents familiar with homeopathy make this amazing modality their go-to when wishing to resolve their kids' glue ear, saving a veritable motsa on specialist visits, surgery and pharmaceuticals, making homeopathy very attractive for the wallet.  A recent study carried out by the Swiss government found homeopathy's cost effectiveness as well as efficacy to be very high and for many issues (including glue ear), outcomes were superior to conventional treatments in terms of resolution and safety.
Alison Fixsen carried out a study recently for the Aurum Project where she found that that seventy five percent of children returned to normal hearing after twelve months of homeopathic treatment.  Now doesn't that make you want to just gasp with pleasure, especially when you want to be responsible and avoid the over-use of antibiotics?
So after adding all of the information up, I do feel very passionately that homeopathy really does offer the sexiest way to gun down glue ear while at the same time beautifying your budget.