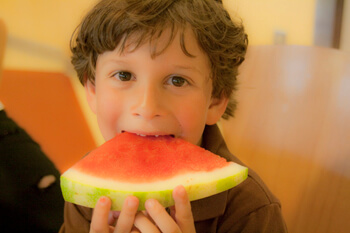 Is my DAIRY FREE child getting enough Calcium??
I am often advising and reassuring parents about their child's dietary intake of Calcium. If your child is DAIRY FREE because of recurrent ear infections, mucous-y coughs and colds, lactose intolerance, digestive disturbances, constipation, allergies or dietary preferences you may also be asking the question.
"Are they getting enough dietary calcium?"
The good news is that there are many non-dairy dietary sources of CALCIUM. In fact NON-DAIRY sources can actually be a healthier more nutritious option. Many DAIRY products we buy from the supermarket are altered from their natural state, processed,contain added sugar, preservatives, artificial thickeners, colours and flavours. These include milk, milk drinks, yoghurts, cheeses, dips and other dairy snacks foods.
Calcium requirements
Australian National Health and medical Research Council (NHMRC) and the New Zealand ministry of Health (NZMOH)
 Babies 6 – 12 months – 270g
1 – 3 years – 500mg
4 – 8 years – 700mg
9 – 11 years – 1000mg
12 – 18 years – 1300mg (including pregnant and breast feeding women)
Top NON DAIRY sources of CALCIUM
This information is intended as a practical guide. Some measurements are estimates and adjusted to fit said practical units
100mg of CALCIUM:
1/3 cup fortified almond milk/rice milk/oat milk/quinoa milk
1/3-cup goat's yoghurt/fortified soy yoghurt
15g/1 inch cube goats cheese/ feta
100g tofu/tempeh
½ tin Sardines/ small cans Salmon
100g of cooked fish
1/2 cup cooked quinoa/oatmeal/amaranth/grain/fortified cereal
1 tablespoon Black Molasses
½ cup cooked spinach/kale/bokchoy/cabbage
2 slices wholegrain bread
50 mg of CALCIUM: 
1 cup baked beans
1 cup cooked chickpeas/lentils/lima beans/black beans
½ cup homous
1-cupmung beans
15 almonds/brazil nuts
1-tablespoon almond/ Brazil nut butter
2 tablespoons Sunflower seeds/sesame seeds
1-tablespoon tahini
1 cup Kelp / Wakame
1 cup cooked broccoli/green beans/carrots/pumpkin/sweet potato
1-cup raw celery
½ cup dried apricots/figs/raisins
Other sources of CALCIUM
100ml breast milk = 35mg calcium
100g soy cheese = 25g calcium
1 egg = 25 g calcium
1 cup brown rice = 25mg calcium
1 kiwi fruit/orange = 25mg calcium
Breakfast ideas
Almond meal pancakes made egg/ milk/almond meal + glass fresh orange juice
Cooked oatmeal with almond meal, milk, soy yoghurt with sliced kiwi fruit
Eggs / baked beans on toast
Fruit smoothie with milk, soy yoghurt, tahini, fruit
Nut butter /tahini sardines on toast