Can homeopathy help the People of Pyrrole?
Pyrrole seems to be the new buzzword going around the natural therapies traps at the moment. Everywhere I turn there's a new article on Pyrrole and the far reaching problems it can cause. Perhaps that's why I've preferred to ignore it for so long because there are so many trends that come and go in the world of natural health and I can't keep up with them all before they fade out of favour.
There's something about Pyrrole though that keeps coming back to haunt me. It's partly due to observing a very dear friend treat her eldest son recently for the condition and seeing the miraculous transformation in his behaviour. It's also partly due to my slowly growing realisation that many of my clients may actually be suffering with this complaint. Whether occurring in an adult or child, there's a certain pattern of symptoms that are similar. Could it be that these clients have some kind of underlying issue on such a deep, genetic level that could be better addressed? Could there be other ways in which these people can be supported, using a variety of approaches?
What is pyrrole disorder?
Before I go on, I will explain what I understand of Pyrrole. It has many names, including mauve factor, pyroluria and kryptopyrrole disorder. For more info you can look here and here.
From the articles I've read, there is a variation in how many people are supposed to have this genetic disorder, but it's reported that between 10-20% of the whole population are suspected to suffer from pyrrole. I personally suspect it's higher than that and there may be many people out there wondering what on earth is wrong with them, unable to find a reason from conventional testing methods as to why they feel so generally awful.
To describe it in a nutshell, we all make the compound hydroxyhemopyrrolin-2-one (HPL) which is the proper name for the pyrrole compound that is a by-product of haemoglobin production. Haemoglobin carries oxygen in red blood cells so it's a process where your whole body is affected if any part of the system isn't working properly. HPL is normally excreted from the body and poses little problem in most people. In those with pyrrole disorder there is a problem breaking down this toxic substance into something that can be harmlessly excreted and it builds up in the tissues.
There are two main issues with this (among many others which are described in the links below). One is that HPL is a neurotoxin, meaning it can damage the nerves. The second issue is that HPL blocks the nutrient receptors for zinc and vitamin B6 mainly, but can also cause problems with a whole lot of other nutrients as well.  There also may be problems with iron metabolism  such as anaemia (too little iron storage) or haemochromatosis (a build up of too much iron), both of which can cause their own significant health issues.
Fertility issues
To have nerve toxins floating around the system, a deficiency in zinc and vitamin B6 as well as a long term lack of other nutrients and a poor stress response means it may not be easy to fall pregnant. This condition predisposes some women to multiple miscarriages. There is another genetic condition that can also be an underlying cause of multiple miscarriage called MTHFR which you can read about here if interested. Both are relatively unknown in the mainstream literature and both have been causing many problems with fertility in both men and women.
Stress, stress and more stress
Chronic, long term zinc and B6 deficiency can cause a whole raft of problems in an isolated situation. If you add nerve damage, anaemia and the combination of symptoms caused by other chronic nutrient deficiencies, you have a person who may be experiencing real distress. On mention of distress, one of the triggers for pyrrole disorder in those who may be borderline, is a significant trauma or stressful situation. Well, I don't know many people who haven't had a hugely stressful situation at least once in their lives and the way most of us live these days it seems like stress is just a given. For those with pyrrole disorder it can be disastrous, leading to a vicious cycle where the stress response causes further build up of HPL, which then causes further damage to the nerves and even more nutritional deficiencies, rendering the body even less able to cope with stress than it was before. In other words, the more stress these people have, the more stress these people have.
 Insomnia and pyrrole disorder
I haven't mentioned insomnia yet. As if the all of the above wasn't enough, HPL can irritate the nervous system so much it can cause sleep disorders as well as sensitise a person to even the tiniest noises. Like the stress cycle discussed previously, the worse your sleep is, the worse your sleep is. It's a vicious cycle in itself as those who suffer from insomnia for other reasons will verify. Coupled with pyrrole it can send even the most balanced individual insane.
Anxiety, depression, violence and anger in pyrrole disorder
Speaking of sanity, it's about here that my interest in pyrrole is seriously ignited. My area of obsession in homeopathy would have to be that of the mental/emotional/spiritual sphere in both kids and adults. I haven't knowingly treated anyone who has been in a mental institution or committed a violent crime before, but I read somewhere that a high percentage of violent criminals and those suffering from manic depression and schizophrenia actually have pyrrole. This would be in its extreme form where the HPL has caused serious damage to not only the physical body but also the psyche.
Most people suffering from pyrrole wouldn't experience such violent impulses but it makes me wonder about so many kids, as well as adults I see who have trouble controlling their anger; who lash out at the slightest hint of offense. What about the child with problems concentrating, anger issues, restlessness and an oddly high tolerance to pain? What about the sleep deprived mums who develop post natal depression, anxieties and/or insomnia from the stress of having a new baby and putting all their body's nutrients into breastfeeding? Wouldn't it be something to look into more closely when there is such a high percentage of the population who fit into these two categories alone? Surely some of those people may have undiagnosed pyrrole disorder.
Then we can look at the teenagers who either fall into a deep depression and isolate themselves, or punch holes in the wall out of frustration. What about the ones who stay up until three o'clock in the morning because they're unable to sleep? What if, in some of those teenagers, this is just an outward symptom of something they can't control?
Addictions and pyrrole disorder
One way that people who suffer from this disorder cope with such alienating and distressing symptoms is to self medicate using substances that help to suppress feelings or situations they can't cope with. While this works in the short term, it can lead to a whole new vicious cycle of problems as the addictive substance will often be one that exacerbates the original, underlying disorder. The first addiction we normally see in children is that of sugar, which leaches the body of many vital nutrients including zinc and B6. For those of you who have a child with a voracious sweet tooth, you may have already noticed how powerful the need for sugar can be. It's a little like watching a mini heroin addict screaming out for their next fix. If pyrrole disorder is the underlying cause, parents may be relieved to know that their children's health issues, behaviour, food preferences and learning problems may not be due to any deficiencies on the parenting front after all, but linked to a chemical imbalance caused by genetics. For all of those parents out there who have tried everything and still haven't made any inroads into their children's behavioural, dietary or sleep issues, it may be time to look more closely at pyrrole disorder.
Often sugar in children is replaced by alcohol in early teens and adulthood. Tobacco and recreational drugs may feature as well. It would be especially alienating in social situations to feel the need to make witty conversation while dealing with such an intense undercurrent inside, without some form of social lubricant to help reduce the constant tension.
Sensory processing disorder and pyrrole
It seems like there's a never ending list of the commonly occurring issues that pyrrole may be linked to. If your child has a melt down at putting their socks on in the morning, has a very high tolerance to pain, experiences discomfort with noise, has a very acute sense of smell, or feels the need to lick everyone or chew on their clothes, you may want to explore the issue of sensory processing disorder. I've also seen children in my practice who couldn't cope with the sensation of sand between their toes, and were super fussy with food textures. Other possible signs of this are a marked need to fidget, problems with coordination whether gross motor or fine motor, shying away from touch or needing super firm cuddles. It's not an exhaustive list and you'll find more detailed information here.
It is thought that pyrrole and sensory processing disorders are linked and it makes sense when you think about the effects of having an excess of nerve toxins eating away at the nervous system on a chronic basis, as well as the many nutritional deficiencies these people suffer from.
Why does pyrrole disorder affect so many people?
These days it seems that addictions, learning difficulties, mental health issues and sleep problems are becoming increasingly common. I wonder if our lifestyles are contributing to the switching on of pyrrole disorder in those who would have been perfectly fine with less stress, more exposure to a natural environment and a diet that wasn't laden with chemicals and pesticides.  The typical modern way of life is far removed from the natural rhythms of how we are meant to live and I have often asked myself if these issues are among the many prices we pay as a result of being so out of balance. Especially for those who are more sensitive, environmental stress of any form can have long term, far reaching effects which may not have a lot of chance for resolution if we don't look far enough under the surface.
Other possible symptoms of pyrrole disorder
One of the easiest things to do if you suspect pyrrole disorder is to look at your fingernails. The nail in this photo has a small, white cloud on it. This is one of the most outward signs of zinc deficiency.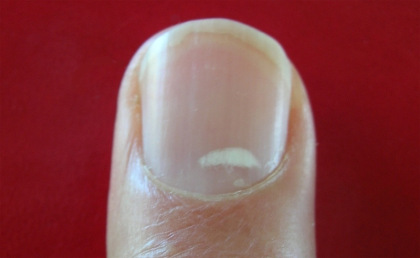 Other symptoms may involve insulin resistance or sugar metabolism problems, constipation, creaky joints, motion sickness, digestive disorders such as unexplained gluten intolerance, other food intolerances, allergies, eczema, early greying of hair, cold hands and feet, unusual smelling body odour and of course the mental/emotional dysfunction described above. You can find a more in depth list here.
Does homeopathy have something to offer for pyrrole disorder?
There are many homeopathic remedies that may assist in resolving these issues. A few years ago the Aurum Project published a retrospective study carried out on a remedy called Hyoscyamus, which we in our clinic use often for children who have a specific set of behavioural problems and nervous system dysfunctions. Hyoscyamus is one of many remedies a homeopath may consider if they are treating a child with anger issues, restlessness and sensory problems. Remedies that your homeopath may prescribe for pyrrole are ones that are not usually available over the counter. As you can see, this issue is multifaceted and each person will present with different symptoms so it is important for best care that you consult with a professional homeopath. Alongside a homeopathic remedy, your homeopath may prescribe certain supplements to help support the body while it rebalances itself. In some cases the remedy alone may be enough to correct the underlying metabolic dysfunction. In others, nutritional supplementation will be necessary too, both to rebuild stores of inadequate nutrients, as well as to restore hormonal imbalances and address other problems specific to the case.
Nutritional supplementation and testing for pyrrole
If you go to your average GP it's likely he or she may not have heard of Pyrrole disorder, let alone having access to the test. It is important to use a testing kit that has the correct preservative, as well as following a specific protocol for collecting the sample. HPL is light sensitive and a very fragile compound that is unstable outside of the body. Many practitioners of natural medicine will have access to testing kits or will be able to point you in the right direction, and the occasional paediatrician may be able to offer testing as well.
When supplementing, it seems like the most obvious thing to do would be to give zinc and vitamin B6. Doing this can make a huge difference and may be all a person needs, however there are a few a few potential problems that could arise with this. Firstly, if the receptors for these nutrients are blocked by HPL, then to give too much zinc and B6 may cause copper and other built up toxins to be released from the tissues, flooding the system. The way this works is that copper, lead and other heavy metals can oppose absorption and utilisation of zinc and other nutrients in the body. Pyroluria can predispose a person to build up these dangerous substances in the body. If a person goes in too strongly with supplementation is could cause toxic overload for the kidneys and other health crises if the body can't excrete it fast enough.
There may also be other nutrients required in conjunction with the zinc and B6 depending on other deficiencies. Magnesium is another nutrient that is often lower in this condition, but without using diagnostic techniques such as hair mineral analysis it's not always obvious what nutrients are necessary. Another thing to consider is that omega 3 fatty acids may actually be harmful and it's omega 6 that these bodies need. Many practitioners will not be aware of this and with the recent press about how omega 3 is more important in today's society, it will come as a surprise that with people suffering from pyrrole it's just another reason why it's so important to take each case on an individual basis.
Retesting HPL in the urine at a later stage after supplementation is advised to ensure the treatment protocol is effective. You should also notice a reduction in stress, a calming of outward behavioural problems and an improvement in overall wellbeing, but these changes can take time so patience is important while the body is adjusting and rebalancing.
Special kids
I am of the opinion that kids with any special needs are sent to teach us many lessons and pyrrole disorder is one of many where a child or adult may feel different, ostracised or alienated from peers. I've been talking about pyrrole as a disorder, but I'm going to now completely contradict myself and suggest that these people who are a little different are also often in possession of other, special talents. There are those who can see or sense things others can't. The medical profession looks at these people as though they have a diseased mind, but what if it's something more than that? What if the boy who can't read to save his life can play an incredible rendition of Flight of the Bumblebee? What if the kid who gets teased for exploding in fury at the smallest comment goes on to solve one of the great mysteries of the universe?
In the case of my friend's son, before treatment he was a boy who would not look anyone in the eye, reacting in violent anger at the slightest provocation and highly sensitive to many different foods. He is now a completely different child; eager to greet new people, far more emotionally resilient and less reactive to his environment. I'd like to think that whatever talents he has hidden up his sleeve will be better utilised now that he is a far happier and more integrated member of society. He is more likely to have a rewarding and meaningful life, now that his parents have made the step of looking a little deeper into their son's problems instead of just brushing them off as bad behaviour.
I do honestly believe there's a good reason why people with this particular genetic trait exist in such abundance at this time, and I also wonder if they are like the proverbial canaries in the coal mine. With the tendency for multiple sensitivities to environmental toxins, it's likely that the increasing emergence of people with this and other genetic traits that render a person highly sensitive may be a sign that humanity itself needs to bring itself closer to what nature intended.