Last year a friend of mine travelled overseas for an extensive time and left with me her potted plants, including her orchid collection. She is what I term "The Orchid Whisperer". Magnificent orchids of all varieties thrived and flowered throughout the year in her home. To say I was nervous was an understatement. My main experience with orchids was maintaining the life of cut orchids in the vase, which I achieved quite successfully.
Time passed and the orchids were flowering beautifully, new growth even appeared! But one day I noticed black spots on the leaves of a few orchid plants, though. A search on the internet suggested a fungal disease, but all the treatments listed were quite severe and used chemicals, which I try to avoid.
I remembered that I had been given a book called "Homeopathy for Plants" by Christiane Maute. I was delighted to discover this book was a treasure trove of gardening hints and homeopathic treatment suggestions. I chose to start with Thuja 30C which was one of the remedies listed for fungal diseases. The remedy was repeated every 3 days initially. I also supplemented with Silica 200C once a week as a tonic. After 10 days I saw a distinct improvement in most of the plants. I dropped the dosage of Thuja to once a week and used Silica once every 2 weeks. Only one orchid failed to recover with the rest, so I increased the potency of Thuja to 200C and gradually the plant developed new growth.
Following the success of homeopathy with the orchids I decided to try a larger challenge. A macadamia tree in the yard had been dropping nuts before ripening, the leaves were curling and there were dark marks on the trunk that made it look like the tree was bleeding. I once again used Silica 200C to promote regeneration. More specifically I chose Arnica 200C for the 'bleeding'. I kept Calendula in the back of my mind due its use in the treatment of injuries. It took about 6 months (and treatment wasn't always regular) for the tree to develop new growth and the foliage to look very healthy. The next crop of nuts was much healthier, although not as plentiful as previous years. I have repeated Silica 200C and will wait to see how the tree progresses.
I have used the book repeatedly and very successfully. Old plants have produced vigorous new growth and an abundance of flowers, mould and fungal issues have been treated successfully. Some problems have been eradicated speedily while others have needed more attention and time, but there is no doubt the homeopathic treatment has made a big difference to my plants.
A range of gardening issues are addressed in the book including pests, various diseases, climate influences, neglect, and mechanical damage. The book has a materia medica with keynotes for the remedies covered in each chapter, and there is a chart which can be copied and used to work out the best remedy choice. A master copy is available to keep a record of remedies used. Many of the remedies are useful in both the home first aid kit and the garden which is very handy. I highly recommend this book for all gardeners!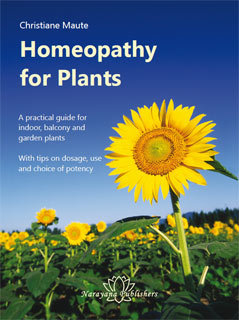 Christiane Maute
Narayana publishers
—————————————–