Homeopathy for Plants: Book review
Homeopathy for Plants by Christiane Maute is a practical guide for indoor, balcony and garden plants. 144 pages. $31.
Interested in natural, environment friendly gardening? This book is a must for every gardener who has ever done battle with scale, thrips or snails.
Homeopathy for Plants is an easy practical guide to using homeopathic remedies in the garden and ideal for even the most amateur gardeners and beginner homeopaths. There are plenty of pictures of the most common plant diseases, pest infestations and injuries making identification easy. All the usual suspects are here: rust, powdery mildew, leaf curl, damage by aphids, scale & snails and even injuries from neglect and sunburn.
For each condition there is a list of indicated remedies and a guide to choosing the most appropriate one, supported by a reference materia medica for easy differentiation between remedies. The when and how of applying the remedies is clear and easy to follow.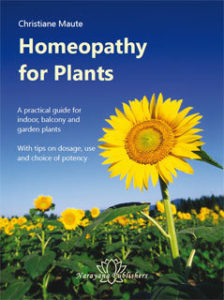 Homeopathy for Plants is great example of how simple and effective homeopathic medicine in the home can be.
Newcomers to homeopathy can see for themselves how easy it is to get rid of scale or sooty mould without resorting to chemicals.
Seeing is believing, which often leads to a curiosity about the wider uses of homeopathic medicines.
I recently saved a prize bonsai which suddenly dropped 90% of it's leaves. Turns out the kids had left it out in the cold wind while caring for my plants. I used homeopathic Aconite and Silica together in a spray bottle – 2 sprays, 3 days apart and suddenly there were new leaves everywhere. I wish I had taken a before and after photo because you wouldn't believe the luxurious foliage 8 weeks later. The wonders of homeopathy!!